Oak Timber Framed Buildings and Oak Conservatories in Scotland
Phone: Workshop +44 (0) 1875 871 018 Mobile 07976 041 444
Email : treewright@treewrights.co.uk

Thank you for your interest and we hope that the following pages will provide useful information on the fascinating and versatile craft of a traditional timber framed buildings and oak conservatories. We specialise in traditional oak timber framed buildings, oak conservatories and oak landscape furniture.
The timber which we use to create our buildings and conservatories is oak and in particular Scottish oak. The reason for this is that we find that Scottish oak is not only strong and durable but is also beautiful and aesthetically pleasing.
Part of the allure of this construction method is the different jointing techniques on display, which are held in place with handmade Scottish oak pegs. Its quirkiness, beauty and honesty in construction make it like cabinet making on a grand scale and its versatility in design ensures each timber frame building is unique.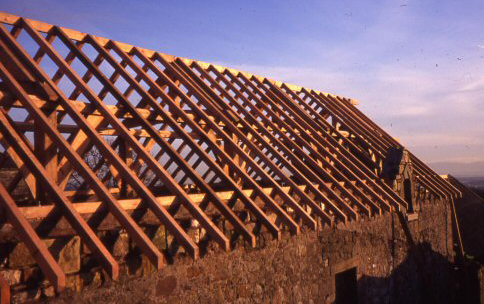 Each Treewrights' craftsman takes great pride in their work and standards are of the very highest. The following pages will outline our services and show photographic examples of previous oak timber frame building's, oak conservatories and other timber frame structures.
We are taking orders for oak timber framed buildings and oak conservatories. Please feel free to contact us if you have any questions and you are always welcome to visit our workshop. Please click here for a map to Treewrights' workshop, where you can often see one of our oak timber framed buildings under construction somewhere in Scotland.