Landscape Furniture
All our landscape furniture is made from the heart of Scottish Oak and we try to construct everything with pegged joints as much as is practical; otherwise fixings are stainless steel or traditional rosehead nails. Other timber can be used and is available on request.
The principles of construction are to make robust, durable exterior furniture that is both comfortable and beautiful. The design possibilities are much greater in this field and we happily take on your ideas.
Our principle products in this area are bridges, conservatories, garages, balconies, benches and gates.
Oak Timber Bridges
Oak timber framed bridges are one of our favourite projects. We use a single beam with crossbeams to form a solid spine onto which the two-inch thick decking is laid. This ensures that you walk along the timbers, which are running in the same line as the oak timber bridge as opposed to decking laid at right angles, which can sometimes lead to you catching your toe and tripping.
Our structural engineer certifies all of our oak timber bridges. Oak bridges range from small ornamental bridges that can be either flat or beautifully curved, to large twelve-meter single beams spanning rivers and gorges.
As with all our products, we use solid oak for all the components and joint them in the traditional way with the absolute minimum of metal fixings.
We offer beautiful, durable bridges that will last decades to come.
Oak Timber conservatory
The combination of glass and an oak timber frame is truly stunning. Light, airy spaces are created with the beauty of the oak frame exposed for all to see. These are more appropriately termed as glass barns and make a fantastic addition to any house providing a wonderful quality of light that can be used all year around.
There are two basic types of oak timber conservatory, lean-to and the double pitch. A double-pitched oak timber conservatory enables you to have a full oak timber frame. It is best to have a generous pitch and to ensure that the roof is glazed with a single length glazed unit without a join which in turn means the width of the conservatory will be between four and five meters, depending on the pitch. The roof may be partially or fully glazed depending on the type of glass used to meet the current U-values required for building regulations.
The lean-to style of timber conservatory adheres to the same principles as the double-pitched roof with regard to U-values and the length of glass used for the roof. However, they do have some advantages in that they can often provide a link to a number of different rooms on the ground level and also interestingly, with the addition of an external balcony and stair, can provide access to the first floor thought the gable door at the end of the walkway as well. A timber conservatory can be truly versatile.
Whichever style suits your house, we can design a glass barn that is light, open and a joy to live in. You will hardly use any other room in the house.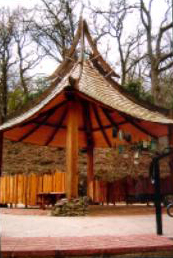 Balconies
Timber balconies are a great way to extend your outdoor living space. Any size of balcony is available.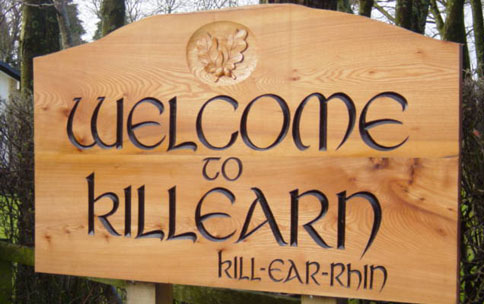 Benches
We can design park, garden and outdoor benches. Other outdoor furniture is also available.
Whether we use solid oak eighteen-inch square blocks or more elegant designs, we can accommodate all your needs for seating. Oak used externally mellows to a soft silver-grey that blends in perfectly with its environment. Oak will last for decades without the need for any preservatives and a minimum of maintenance.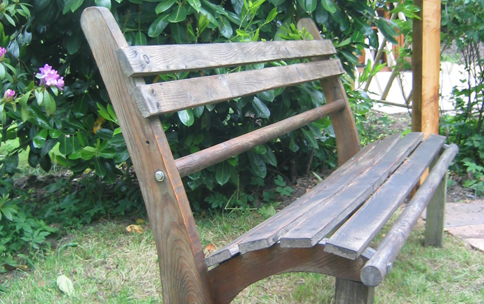 Gates
Five bar gates, garden, and other entrance gates we can make them all. Gates can be as large or as small as required. We can make decorative or simple five-bar gates of any size to meet your requirements. Each gate is made from either oak or a lighter western red cedar (just as durable) and is hand jointed, morticed, tenoned and pegged with seasoned oak dowels. Solid steel hinges either galvanised or painted black are used and compliment and contrast against the timber background brilliantly. Each gate is supplied with solid oak gateposts, 7"x7" or as per required.