Our Company
Treewrights was formed some ten years ago with the aim of utilising home grown Scottish hardwoods and softwoods in the production of traditionally crafted timber frame houses, extensions, barns, conservatories, garages, bridges, public buildings, etc. Most of our work is Scotland based with an emphasis upon the Lothians and Borders.
In addition to the above structures there has been an increasing demand for landscape furniture in the new national parks and also private and local authorities. We have therefore designed bespoke ranges of products that are both aesthetically pleasing, durable, vandal proof and comfortable, using oak frame techniques.
Treewrights is conscious of environmental issues surrounding the construction and development industry and works closely with architects to produce long lasting and ecologically sensitive buildings. The majority of our timber is sourced locally, within a 50-mile radius. However, if you have trees we will happily use them for your oak frame, as is the case of Branshogle (see case study page), where we organised their felling, conversion and finally erection of this beautiful oak frame. Your trees become your house (and furniture) breathing new life into a crop that you have tended.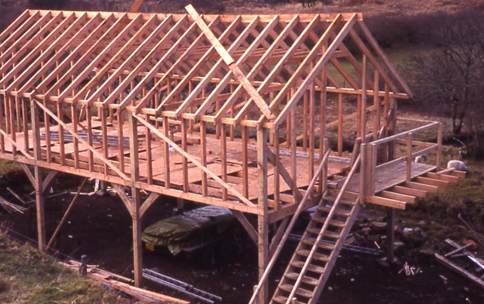 If the magnificence alone doesn't convince you to use timber in your design, there are many other reasons to choose timber. An oak frame often forms the heart of a house; the size, colour, texture and techniques used in an oak frame have an honesty and presence of construction that is both warm and reassuring. Each oak frame is distinctive with a warmth and charm that comes from its quirky shaped rooms, odd corners, gaps at junctions and huge open spaces.
At Treewrights, we do not profess to produce a "perfect" oak frame, we work with a natural material that may have a bend here or a twist there, or a small knot on the aris edge, slight imperfections that give us a very subtle language that is unique to each oak frame, a signature of its own character and individuality.
The possibilities for design when using an oak frame are endless. We aim to emphasise and encourage the use of unusual curved timbers as much as possible from crucks to sling brace trusses that have an elegance that is hard to beat. Working in collaboration with architects, main contractors, structural engineers and clients we are always keen to create clear lines of communication to help turn your dreams into reality. There are a myriad of different designs and each frame can be as uncomplicated or highly detailed as you would like and can be combined with glass and other materials to create an individually styled building. Timber can be used for the entire construction, in conjunction with other building materials, or existing structures-the options are limitless.
Please take a look at the gallery page for examples of the different types of oak frame structures that are available to you.